I recently spent five days visiting my good friend Tim and his husband Alex in San Francisco. Had an absolute blast. Now I need another week to recover.
Day 1 – Saturday, April 25, 2015
Arrived around mid-afternoon feeling gross and drugged from Dramamine and still motion-sick. Took the BART train to the Civic Center downtown, then took a cab from there to Tim's neighborhood, the famous Haight-Ashbury area. They live in a 100-year-old Edwardian. Here's the view from inside the entryway of their home:
They put me up in their living room with a nice air mattress. Their dog Moby is a Kelpie mix.
In the evening we went to Japantown for dinner. Here's the Japanese Peace Pagoda:
We ate at Tanpopo, their favorite ramen place. The bowls were ginormous. I could only eat about half of mine.
After dinner, we wandered through Japan Center, an indoor mall whose shops are devoted to all things Nippon. I got some postcards at a stationary shop, Tim pulled me into an incense shop, and I spotted a bonsai shop, which was thankfully closed or I may have had something shipped home. I had to take pictures of this insane Sanrio shop:
There was also a high-end kimono shop:
Random storefronts with interesting displays:
Back at home, we watched a brilliant animated movie by acclaimed artist Hayao Miyazaki on their big projection screen. Inspired storytelling, otherworldly creatures, and gorgeous watercolor-like visuals. Here's a couple of stills from the movie, "Spirited Away":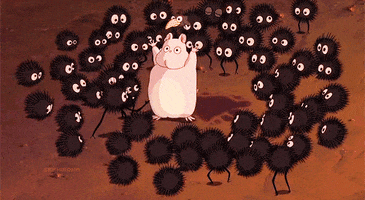 Slept like the dead that night.